CJ Mahaney
from
Sovereign Grace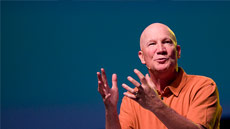 C.J. Mahaney leads Sovereign Grace Ministries in its mission to establish and support local churches. After 27 years of pastoringCovenant Life Church in Gaithersburg, Maryland, C.J. handed the senior pastor role to Joshua Harris on September 18, 2004, allowing C.J. to devote his full attention to Sovereign Grace. He serves on the Council of the Alliance of Confessing Evangelicalsand on the board of The Council on Biblical Manhood and Womanhood.
C.J.'s books include Humility: True Greatness; Living the Cross-Centered Life; and Sex, Romance, and the Glory of God. He is the editor of Worldliness and Why Small Groups?, and has coauthored other books in Sovereign Grace Ministries' Pursuit of Godliness series.
C.J. and his wife, Carolyn, have three married daughters and one son. They make their home in Gaithersburg, Maryland.
Books by CJ Mahaney
Posts by CJ Mahaney