Darrin Patrick
from
Acts 29 Network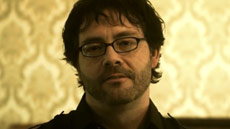 Darrin Patrick serves as lead pastor of The Journey in Saint Louis, Missouri, which he founded in 2002. Darrin also serves on the board of directors of the Acts 29 Church Planting Network as Vice President and is a regular contributor at the Resurgence. His passion is to help the church understand and live the gospel in the world. Today, The Journey runs eight services across four campuses and continues to aggressively plant new campuses and churches in the Saint Louis region and beyond.
He recently finished two books: Church Planter: The Man, the Message, the Mission, releasing in August 2010, and A Church for the City with Matt Carter.
Darrin is married to his high school sweetheart, Amie, and they have four beautiful children: Glory, Grace, Drew, and Delainey. Darrin enjoys vacations with his family, basketball, good food, good books, good movies, and weightlifting.
Books by Darrin Patrick
Church Planter: The Man, the Message, the Mission
by Darrin Patrick
For the City: Proclaiming and Living Out the Gospel (Exponential Series)
by Darrin Patrick, Matt Carter
Posts by Darrin Patrick