Ed Marcelle
from
Acts 29 Network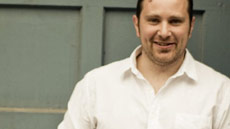 Ed Marcelle is Lead Pastor of Terra Nova Church in Troy, N.Y., and Northeast Regional Coordinator for the Acts 29 Network.

A veteran church planter, Marcelle has a passion for building Christocentric communities that combine solid theology and cultural normalcy. He and a few close friends launched Terra Nova in the spring of 2005. Their goal was to create a community of historically informed Christ-followers intent on discovering fresh ground together, expressing the ancient truths of Christ in a culturally relevant way through teaching, music, art, and media.

Terra Nova has thrived in the intervening years—growing from a small gathering of friends to a vibrant community of nearly 300 people. Terra Nova meets for worship at a night club in downtown Troy, and the church runs an art gallery space that has become a popular stop on the monthly "Troy Night Out" circuit. Small groups at Terra Nova, called "New Tribes," are an integral part of the life of the church, with a participation rate of nearly 75 percent. The church has been blessed with support from multiple denominations and networks across the country.

Marcelle has spoken in a wide variety of venues on topics ranging from the unique team leadership structure at Terra Nova to the intersection of art, culture, and the church. He was a guest speaker at the 2006 Reformission Conference at Mars Hill Church in Seattle, Wash.; an invited panelist on church planting and culture at Mid-America Seminary; and an adjunct lecturer at Davis College in Johnson City, N.Y. Marcelle also has been a featured speaker at Acts 29 boot camps in both the United States and Canada, and he has spoken at national and regional denominational and church-planting conferences.

Marcelle holds a Master of Arts in Biblical Studies from Dallas Theological Seminary. He and his wife Diane have four children: Alfonso, Isaiah, Bethany, and Abigail.
Posts by Ed Marcelle