Michael Horton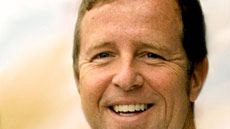 Dr. Michael S. Horton is the J. Gresham Machen Professor of Systematic Theology and Apologetics at Westminster Seminary California.
Dr. Horton has taught apologetics and theology at Westminster since 1998. In addition to his work at the seminary, he is the president of White Horse Media, for which he co-hosts the White Horse Inn, a nationally syndicated, weekly radio talk-show exploring issues of Reformation theology in American Christianity. He is also the editor-in-chief of Modern Reformation magazine.
Dr. Horton is the author/editor of twenty books; his most recent ones areChristless Christianity: The Alternative Gospel of the American Churchand The Gospel-Driven Life: Being Good News People in a Bad News World. He has written articles for magazines like Modern Reformation,Pro Ecclesia, Christianity Today, The International Journal of Systematic Theology, Touchstone, and Books and Culture.
Dr. Horton is associate pastor of Christ United Reformed Church in Santee, California, and lives in Escondido, with his wife, Lisa, and four children.
Books by Michael Horton
Posts by Michael Horton