Timothy George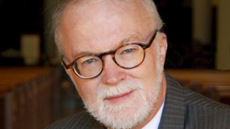 Timothy George is founding dean of Beeson Divinity School of Samford University and chairman of the board of the Chuck Colson Center for Christian Worldview. He also chairs the Doctrine and Christian Unity Commission of the Baptist World Alliance, is a life advisory trustee of Wheaton College and is active in Evangelical–Roman Catholic Church dialogue.
He serves as senior theological advisor for Christianity Today, and is on the editorial advisory boards of First Things, Harvard Theological Review, and Books & Culture. George is the general editor of the Reformation Commentary on Scripture, a 28-volume series of sixteenth-century exegetical comment. A prolific author, he has written more than 20 books and regularly contributes to scholarly journals. His Theology of the Reformers is the standard textbook on Reformation theology in many schools and seminaries and has been translated into multiple languages.
An ordained minister in the Southern Baptist Convention, George has served churches in Georgia, Massachusetts, Kentucky, and Alabama. He and his wife, Denise, have two adult children.
Posts by Timothy George